Supreme Shrimp and Okra Gumbo
Serves: 8-10
Shrimp and Okra Gumbo blends the best of Cajun and Creole in one delicious bowl.
Recipe from "Acadiana Table" - George Graham
Ingredients
ROUX:
1 part white flour
---
1 part vegetable oil
---
Gumbo:
2 gallons water
---
4 Tablespoons roux (more if you want it thicker and richer)
---
1 bell pepper, chopped
---
6 cloves garlic, minced
---
1 whole chicken cut up
---
2 large onions, chopped
---
1 lb of your favorite smoked sausage (sliced)
---
1 lb andouille sausage (sliced)
---
1 bunch scallions, chopped, tops only
---
1 bunch parsley, chopped salt, black pepper, cayenne and Cajun seasoning
---
Directions
START WITH THE ROUX: Heat the oil in a large skillet over medium heat (cast iron skillets work best). Add the flour gradually, stirring constantly. You will need to stand over the stove stirring this the whole time. The roux is ready when it is a chocolate-to-coffee shade of brown, depending on your preference. The length of time will vary depending on the type of pot you are using and the level of the heat under your pot. It is important to know that in a heavy skillet, the roux will continue to darken once you have removed it from the flame. Allow the roux to cool almost to room temperature. You can put the cool roux in a jar and keep it in the refrigerator. NOW, FOR THE GUMBO: In a very large pot, boil two quarts of water. Once boiling rapidly, add and dilute roux. Keep stirring! When the roux is diluted, the mixture will begin to foam up rapidly. Continue stirring! Add the rest of the water and stir more. Add the onions, bell pepper, garlic, chicken, sausage, salt, black pepper, and cayenne. Cook over medium-high heat until tender. DO NOT COVER. Option: Remove chicken from the gumbo, let cool, then remove the meat from the bones. Discard the bones and put the chicken back in the pot. Most people don't want to mess with the bones while eating gumbo. You can also buy boneless thighs and/ or breasts but it's not as flavorful. Cook rice. (Directions on package) 5 minutes before serving add scallions and parsley. When the five minutes are up, remove the pot from the heat.
Meet George Graham
When George Graham sinks his teeth into a juicy story, you can be assured it will be in good taste. He is a food writer that is curious about his ...
Read More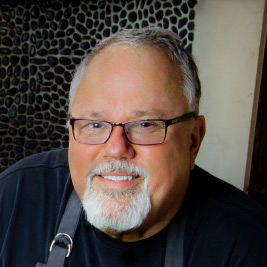 You Might Like...
No items found. No items found. No items found. No items found.