Healthy Living
Smart and balanced eating is essential to a longer and healthier life. By carefully planning your diet with a variety of fruits, vegetables, grains, lean meats and low-fat dairy products, you're giving your body the fuel and nutrients it needs to live healthy and strong.
Rice is perfect for well-balanced eating – loaded with all eight essential amino acids, important B-complex vitamins (thiamine, riboflavin, niacin), as well as phosphorus, iron and potassium.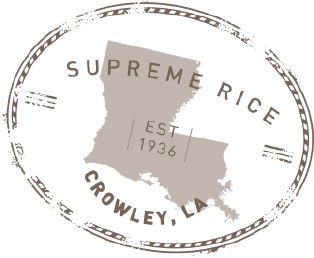 TOP 10 REASONS TO EAT SUPREME RICE
Locally Grown

When you choose Supreme Rice, you're supporting local, American farmers.

NUTRIENT-RICH

Supreme Rice provides more than 15 vitamins and minerals, such as Niacin, Vitamin D, Calcium, Fiber & Iron, as well as beneficial antioxidants.

ENERGY BOOST

Supreme Rice fuels your body with energy to keep it going throughout the day. It's a great source of complex carbohydrates, providing the fuel your body and brain need to function.

HEALTH GAINS

Supreme Brown Rice helps reduce the risk of heart disease, diabetes and certain cancers and reduces the risk of high blood pressure.

IT'S "FREE"

Supreme Rice is gluten-free, fat-free, sodium-free, cholesterol-free and GMO-free.

WEIGHT MANAGEMENT

Research shows that eating a serving of rice makes you feel full longer and is a beneficial aid to the digestive system.

LOVE FOR THE ENVIRONMENT

Supreme Rice fields provide critical wildlife habitats for many species of birds, mammals, and reptiles and we are committed to protecting and preserving our natural resources.

FOODS FOR THE SENSITIVE

Rice is one of the least allergenic grains, making it a healthy option for those that are gluten-intolerant or have food sensitivities.

BUDGET-FRIENDLY

Rice averages 10 cents per serving and goes a long way in stretching out meals.

IT MAKES YOU HAPPY

Eating Supreme Rice triggers your brain to produce serotonin, which boosts your mood and keeps your appetite in check.