Every Grain is Supreme
For Supreme Rice, our passion is closely entwined with the cultivation of rice. Truth be told, our farmers are the key to our success. From the field to the mill to the table, we are boots deep in the process intimately linked with the families who grow our rice. True to the basic purity and simplicity of rice, we continue on our 75+ year mission to bring the highest quality and most flavorful rice products to you.
Located in the heart of Southwest Louisiana Rice Region, Supreme Rice, LLC (Supreme) is the premier exporter of US milled rice on the Gulf Coast with convenient access to the ports of Lake Charles, Houston and New Orleans.
Southwest Louisiana boasts nearly 500,000 acres of prime rice producing land and many of the best rice farmers in the US. Louisiana's rice farmers also combine the best rice farming practices with conservation and stewardship. From start to finish, "Quality is Job 1."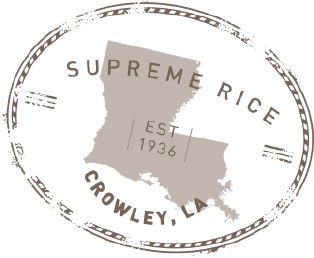 Supreme Fun Facts
Operating since 1936
In partnership w/ Fortune 500 companies
Louisiana's largest rice milling operation
Processes over 1 billion pounds of rice annually
SQF Level 3 Certified for food safety & quality
Privately held / American-owned
Shipped worldwide to over 50 countries
Complementing meals since 1936
Scroll to see our timeline!
In 1936, Joseph Doré organized the Supreme Rice Mill in Kaplan and operated there for one year.

The following year he bought the Simon Rice Mill in Crowley and renamed it the Supreme Rice Mill. As the harvesting of rice switched from field-dried shocks and threshing to the more one-step method using combines after World War II, Joseph Doré built one of the first drying units in the industry. Supreme also built a rice dryer in Jennings.

Following his father, Joseph Doré, Jr. managed the mill until his untimely death in 1959 and was succeeded by his brother Gordon.

Gordon's son, Bill, took over from his father as President in 1986.

Bill has been a member of the Rice Millers' Association Board of Directors since 1983 and elected Chairman of the Board in 1991.

This made him the third generation of the Doré' family to serve as Chairman/President of the RMA.

In 2007, Supreme Rice Mill of Crowley was acquired by Louisiana Rice Mill with Bobby Hanks residing as Chairman and Chief Executive Officer. Bill continued to lend his knowledge and expertise while remaining a key player in the company.

Hanks says that the company strives every day to provide the best quality products and services to customers in the U.S. and around the world. Since acquiring his first mill in 1999, Hanks has overseen the continued growth of Louisiana Rice Mill into the largest rice milling operation in the state of Louisiana which currently employs over 150 people and is ready to serve the market needs of rice farmers statewide.

Supreme Rice announces that its venture into the consumer market is official.

Supreme Rice is shelving four varieties of rice in stores: white long grain, white medium grain, brown long grain and jasmine. The rice is available in a variety of bag sizes ranging from two to 10 pounds, and each package features the unique profile of a Supreme Rice farmer.

Effective March 31, 2017, Louisiana Rice Mill, LLC, officially changed its name to Supreme Rice, LLC,

incorporating the Supreme Rice name recognition into corporate and business activities, and reflecting its global presence of rice activities throughout the world.

THAT'S OUR STORY SO FAR.

We are still growing...